HHD 5780
High Holy Days 5780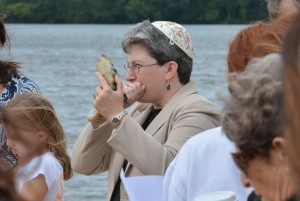 The High Holy Days are the most sacred days of the Jewish calendar. At Congregation B'nai Shalom, we begin our preparations during the month leading up to Rosh Hashanah (the Jewish month of Elul), with opportunities to spiritually prepare for the New Year, with classes and Selichot (usually the Saturday night before Rosh Hashanah).
During Rosh Hashanah (the Jewish New Year) and Yom Kippur (the Day of Atonement), Congregation B'nai Shalom provides opportunities for meaningful worship for all ages. Our full schedule of offerings is available on our High Holy Day Information pages (see below).
We continue with the festivals of Sukkot and Simchat Torah, rounding out an intensive month of spiritual renewal with joyful gatherings, festive meals, and many opportunities for participation and celebration. One of the experiences we share is the unrolling of the entire Torah around our sanctuary, with many of our teenagers and adults chanting short excerpts as we review the five books of the Torah.
5780 / 2019 High Holy Days Information
A complete calendar for the High Holy Days (including signups for community meals is available at https://www.cbnaishalom.org/hhd-5780-calendar.html. You can also download a copy of our print High Holy Days Bulletin, when it is available.
We have also created a list of Frequently Asked Questions to answer your inquiries about which service to attend and other specifics about the High Holy Days at Congregation B'nai Shalom.
Seating cards will be mailed in early September to members in good standing with Congregation B'nai Shalom.
NOTE: As Religious School starts two weeks prior to Rosh Hashanah, we will be distributing High Holy Days Seating Cards for those with students enrolled in our Religious School on Sunday, September 15th and Tuesday, September 17th (opening days for Religious School and Chai School) in order to save postage. Any seating cards not picked up on those dates will be mailed Wednesday, September 18th.

Information on seating cards for those wishing to join us for the High Holy Days is available at https://www.cbnaishalom.org/hhd-seating.html.
There are also opportunities to help us in our mission to provide a vibrant hub of Jewish life in Central MA, through a donation to our High Holy Days Appeal, or by honoring the memory of a loved one by remembering them in our High Holy Days Memorial Book, which is distributed at our Yom Kippur afternoon Yizkor service.
Early Childhood Childwatch
Child care for children ages 1 to 6 is available at no charge during our 8:30 am service on Rosh Hashanah and Yom Kippur mornings. We ask you to RSVP at https://www.cbnaishalom.org/hhd-child-watch.html so we can adequately plan. Please email Alissa at earlychildhood@cbnaishalom.org with any questions.
We cherish the volunteers whose assistance during the High Holy Days helps create a welcoming and spiritual experience for all who join with us in prayer. To participate in a worship service, go to https://www.cbnaishalom.org/hhd-service-volunteers.html. To help us welcome our congregation as an usher, go to https://www.cbnaishalom.org/hhd-usher-signup.html, or to assist our Brotherhood as a parking lot greeter, go to https://www.cbnaishalom.org/hhd-parking-lot-greeters.html.
Wed, August 21 2019
20 Av 5779
B'nai Mitzvah Calendar and 2019-2020 School Calendar
Wed, August 21 2019 20 Av 5779