High Holy Days, Westborough, MA
High Holy Days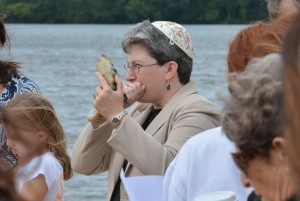 The High Holy Days are the most sacred days of the Jewish calendar. Here at Congregation B'nai Shalom, we begin with the month leading up to Rosh Hashanah (the Jewish month of Elul), with opportunities to spiritually prepare for the New Year, with classes and Selichot (usually the Saturday night before Rosh Hashanah).
Over Rosh Hashanah (the Jewish New Year) and Yom Kippur(the Day of Atonement), Congregation B'nai Shalom provides opportunities for meaningful worship for all ages. Our full schedule of offerings is available on our High Holy Day Information pages (see below) as the season approaches.
The festivals continue with the holidays of Sukkot and Simchat Torah, ending out an intensive month of spiritual renewal with joyful gatherings, festive meals, and many opportunities to participate and celebrate. One of the special experiences we offer to end the season is the unrolling of the entire Torah around our sanctuary, with many of our teenagers and adults chanting short excerpts as we review the five books of the Torah.
We also depend on the support of our members, visitors, and friends throughout the year to help support our mission of being a hub of Jewish Life in our area. Please contribute to our Annual / High Holy Days Appeal
HIGH HOLY DAY SERMONS FROM 5783 NOW ONLINE HERE in video format.
You can read Rabbi Gurevitz' sermon, 'Reframing Awe' here.
You can read Rabbi Eiduson's sermon, 'The more things change, the more they stay the same' here
You can read Rabbi Gurevitz' sermon, 'Awe and Communal Responsibility' here.
You can read Rabbi Eiduson's Kol Nidre sermon, The Meaning of Kapparah here
You can read Rabbi Gurevitz' Yom Kippur sermon, The Holiness of community here
Our 2023/5784 High Holy Days information webpages, including specifics on ordering seating cards, dates and service details, and ways to volunteer and contribute, will be live mid-summer 2023. Please visit this page again for updates.
Fri, March 24 2023
2 Nisan 5783
Fri, March 24 2023 2 Nisan 5783